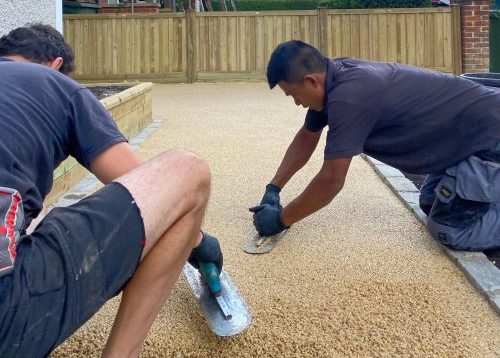 How a small driveway in Dorking is transformed…
Aye Gardening had an incredible experience working on this project in Dorking.
"Excellent throughout." Susan Naing | Aye Gardening
Reasons for a new front garden
The front garden was in desperate need of a revamp!
Unfortunately, there was an existing willow tree that had to be removed, it was too big for the front garden, lifting existing causing trip hazards and a lack of natural light into the home.
The client decided they wanted a SureSet resin driveway and Aye Gardening Ltd was the recommended in the Surrey area.
The process
Aye Gardening are renowned for their helpful humble approach whilst remaining professional and answering customer queries promptly.
Working to achieve their client's design ideas and giving them the confidence that Aye Gardening could implement them, they provided thorough estimates with a full detailed breakdown of costs, which offered the client transparency and trust.
With a tight deadline, communication was key throughout this project and remained excellent around start dates and any potential hold-ups or supply issues.
Adjusting to meet clients' needs and expectations
Like with any resin bound paving, an edge is required to lay resin bound up against. The client chose block pavers which were originally installed a little lower than the client would have liked. This was discussed with the client and without question, they were reassured it would be easily sorted over the weekend. The setts were reinstalled slightly higher around the central bed as requested, ready for the resin bound paving installation to commence.
The resin bound installation
All start dates and potential hold ups with suppliers were always communicated back to the client. The build commenced in July 2021 and the Aye Gardening Team reliably turned up with a smile.
The garden of approximately 60m² was dug out and prepared with a 150mm of well compacted porous type 3 crushed stone, ready for the stabilising layer that can withstand vehicular traffic called SureCell (52mm thick). This cellular grid base option was then filled with loose stone before the were applied over the top.
The area for resin bound was 60m², using a natural aggregate supplied by Gratex Surfacing known as SureSet blend 6mm Butterscotch. SureSet colour blends are each designed to meet the requirements for its type of application (for example a patio, pathway, or driveway in this instance). The thickness of the resin bound materials for this project was hand-applied with a float at a 24mm depth over the base layer.
The workmanship showed good attention to detail, and as requested, the team involved their clients in any creative or design decisions before going ahead.
The clients written testimonial;
"My front garden was in desperate need of a revamp! They transformed it and were unfailingly friendly and professional throughout. I would not hesitate to recommend them"
Aye Gardening worked hard to finish within the agreed timeframe, even after a small miscommunication which led to some stones being laid in the wrong place - Aye and Susan went back to the site to chat things through after hours on a Friday evening! They were keen to make certain to the client that it was easily rectified.
Positive environmental considerations
Sustainable urban Drainage System
The drive was instantly transformed into a driveway. The client lives on a sloping road so water would pool at the end vert easily. With a resin bound system, the rainwater will permeate into the driveway with very little water run-off.
Using resin bound provides a smooth finish with no loose stones. Many of the neighbouring driveways on the street have loose gravel that migrates onto the shared road and looks unsightly and causes the road drains to clog up and adds additional maintenance for residents.
The finished project
Aye Gardening excelled on this project working above all odds to complete the driveway before their client's wedding. They also had to work with other trades such as the external house painters and scaffolders to schedule all groundworks needed to complete the project.
The end result was a huge improvement to a small driveway that received so many compliments from the neighbours and passers-by. The project photos before, during, and after the installation of the clients, house shows the remarkable transformation.
This project also had a lot of local attention and resulted in Aye Gardening also becoming a Jacksons Fencing approved installer.
Husband and wife Aye, Susan and, their team have years of knowledge are easy to work with, and, are extremely professional. If you live in or near Surrey, contact Ayegardening Ltd by E-mail: or visit their website
Read their blog it will tell you all you need to know...
Enquire