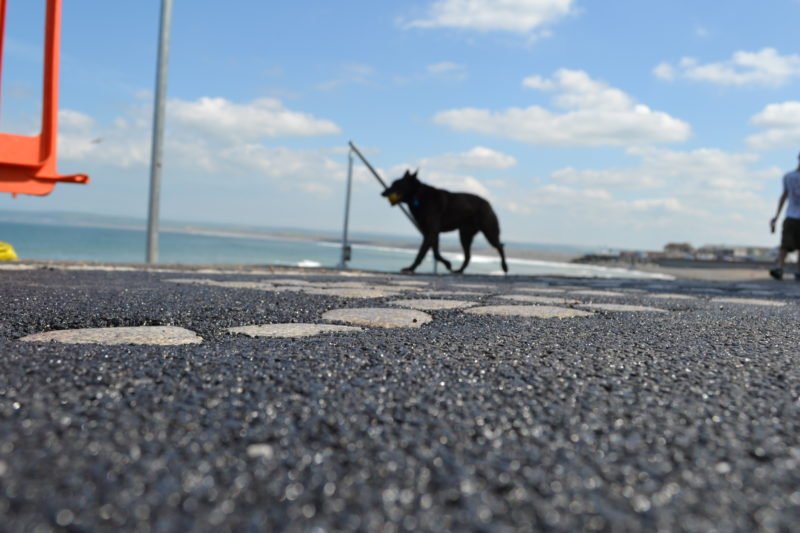 "If" by Rudyard Kipling for Westward Ho!
With its name taken from the 1855 British historical novel by Charles Kingsley, Westward Ho! is the only place in Britain with an exclamation mark in its name.
Westward Ho! is very close to Bideford in Devon, a picturesque coastal village loved for its golden sandy beach, Blue Flag status and excellent surfing conditions.
In 2015  were awarded a £417K grant from the  for improvements to the Promenade along the sea front and repairs to the 120 year old rock pool.
With work nearing completion, the next stage was to recreate the first verse of the poem "If", by Rudyard Kipling, within the promenade - the part directly in front of some beautiful, quintessentially English beach huts.
This particular poem was requested by the community because Rudyard Kipling spent several of his childhood years at Westward Ho!
The surfacing contract was awarded to  (D&CS) who contacted us in January 2016.
D&CS formed the letters of the poem with individual granite setts by , so the surrounding surface needed to be a material that could mould around them.
After seeing SureSet resin bound paving being laid at , D&CS were confident that our permeable paving would fit the bill - and the colour Midnight was chosen to complement the granite and match the neighbouring asphalt.
Other enhancements to the promenade include new seating, litter bins, hand railings and lighting.
It took our Installers longer than usual to lay the paving because people passing by found it fascinating and kept stopping to ask about the project, and the poem.
Feedback from local people on the addition of the first verse of the Rudyard Kipling poem 'If' into the promenade is that the right decision had been made, and that it looks amazing!
"If you can keep your head when all around you

Are losing theirs and blaming it on you,

If you can trust yourself when all men doubt you,

But make allowance for their doubting too;

If you can wait and not be tired by waiting,

Or being lied about, don't deal in lies,

Or being hated, don't give way to hating,

And yet don't look too good, nor talk too wise:"
Cornwall Council and D&CS are delighted with the result and are hoping to get some aerial photographs of the completed footpath.
Enquire
Key
Features
Application: pedestrian, light vehicular, creative paving
Area: 150m²
Base: asphalt
Colour: 6mm Midnight
Depth: 20mm
Edging: granite setts
Installed: May/June 2016
In 2020 the EcoBatcher will save a project of this size 120 single-use plastic buckets!