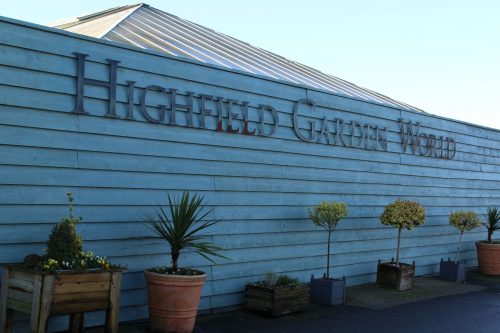 Garden Centre Plantation Paving Area In Gloucester
Conveniently located off the M5 is Highfield Garden World, a wonderful family-run independent centre established 1920's on the outskirts of a village called Whitminster.
Planning
The garden centre was funded a £1 million grant to improve the centre and future-proof shoppers' experience after noticing some significant changes since the pandemic. During the period of COVID-19 it was noticed that the demand for plants and garden-related goods increased throughout the industry, Highfield Garden World wanted to offer shoppers the same experience whilst being cautious of the necessary levels of social distancing required to control a retail centre. Even with the promise of social distancing restrictions being reduced there could be uncertainty amongst visitors to the garden centre who would prefer to shop in a more spacious environment, so to create additional space was Highfields' priority.
There are currently three generations of Joan's family working for Highfield all with various roles from admin, shop assistants to the company Director, Tim Armstrong, who contacted SureSet after being granted planning permission to extend their premises by creating more space with a new restaurant, more retail space, a larger car park to accommodate more visitors as well as a new undercover outdoor plantation space, with high tech opening roof and our own aesthetically pleasing accessible resin bound paving.
Design and Installation
Our Head of Commercial Sales and Operations, Dave Shell, has a tremendous amount of technical product knowledge and worked closely with Director Tim Armstrong to ensure their vision of the new 3240m² outdoor planteria was a success.
The aggregate chosen was a natural stone supplied by and is known as our 6mm Norwegian Beach blend, the entire area was installed at an 18mm depth to allow for the expected retail foot traffic, shopping trolleys, wheelchairs, and pushchairs.
To ensure the longevity of our resin bound surface the base needs to be structurally sound, for this project we had checked and approved the existing asphalt base, a few undulations were found outside of our tolerance threshold so a base mix was implemented with our client's approval.
A straight aluminium edging supplied by Dural was used around the open edges and to segment our day work between the steel uprights that support the roof structure, this defined the uniform-sized bay to which the SureSet Resin Bound Gravel was installed into. It was required to use an expansion joint. Expansion joints are often used in a large expanse of areas like this especially if there are different base types or concrete bases that have an expansion joint within the concrete to which SureSet would reflect into our resin bound paving.
A crack reduction membrane (CRM) of 200m² was used on the transition between the existing asphalt surface and the concrete infill at the points where the steel uprights were constructed.
"Tim and myself consulted several times regarding the technical detail, logistics and suitability of SureSet RBG for the project. Both of us brought a strong "can do" ethic to the discussions as we both recognised that whilst this was an ambitious project it would deliver a stunning "make the difference" improvement to the planteria."

Dave Shell – Head of Commercial Sales and Operations
Result
Now the centre has plenty of space to offer its customers with an outdoor resin bound paved area and opening roof which means that Highfield Garden World can operate all year round by providing shade and shelter for their visitors, staff, and plants when needed.
Benefits of resin bound paving for garden centres planteria
Easy to maintain
Easy to walk on and accessible for trolleys, pushchairs, and wheelchairs
Aesthetically pleasing with colours to suit all designs
Covered against frost damage
Cold applied with minimal disturbance during the installation process
Fully permeable, meaning no water puddles
Tim Greenway, Director at Highfield Garden World said: "We are so pleased with SureSets resin bound paving, it has made the outdoor space much more inviting and easier to access the colour of the resin bound paving uplifts the space, not to mention how easy it is to maintain and walk over. This is just another way that Highfield Garden World is tackling the seasonal challenge that garden centres traditionally had and this helps our customers to choose us as a destination of choice all year round."
Did you know…the garden trend this year (2022) is set to be for creating more vegetable and wildlife gardens. Growing your own produce and planting flowers that will entice the local wildlife to your garden, and are great ways to embrace sustainable living. By installing a resin bound driveway, patio, or pathway around your home and garden you'll certainly have all sustainable aspects covered, ask us how by contacting the team on +44 (0)1985 841 180.
Enquire