Super SureSet Surface for Super Cars!
Located near Castle Donington in Leicestershire is the UK's oldest motorsport circuit that is still in operation - .  
Originally part of the Donington Hall estate, Donington Park is owned by Jonathan Palmer's  organisation.
First used for motorsport on Whit Monday 1931, the narrow lanes were widened and made a permanent in 1933. It closed at the outbreak of World War II after being taken over by the Ministry of Defence as a military vehicle depot.
In 1971, the land was purchased by Tom Wheatcroft (Wheatcroft & Son Ltd), who rebuilt the circuit and racing resumed in 1977.
In 2007, Tom agreed a 150-year lease to Donington Ventures Leisure Ltd. When Donington Ventures Leisure Ltd. went out of business, and with no buyer found, the lease terminated and ownership reverted to back Wheatcroft & Son Ltd.   MotorSport Vision completed its takeover of Donington Park in January 2017 and immediately began a multi-million-pound improvement project to be completed in time for the 2018 racing season.
One of the biggest additions to the site is Garage 39 Café, Bar and Restaurant.
With some urgency, as the racing season was due to start in March 2018, we were contacted by the Contractor  in February 2018 with a request to tender for the café's outdoor entrance and outdoor seating area.
Our client urgently required a good looking, hard-wearing and easy to maintain surface with a design that included a clearly defined pathway from the entrance to the two access gates.
We were delighted to be able to deliver all the requirements of this urgent project and were on site in March to complete the installation in time for the start of the racing season.
We successfully achieved the brief by using the complimentary  Bronze and Sterling; Bronze creating a stunning seating area and Sterling defining a  from the entrance to the two gates used to access Garage 39 Café, Bar and Restaurant.
Nearly 87 years since its first race, the multi-million-pound investment ensures Donington Park remains one of the most internationally renowned and historically significant circuits in the World.
Enquire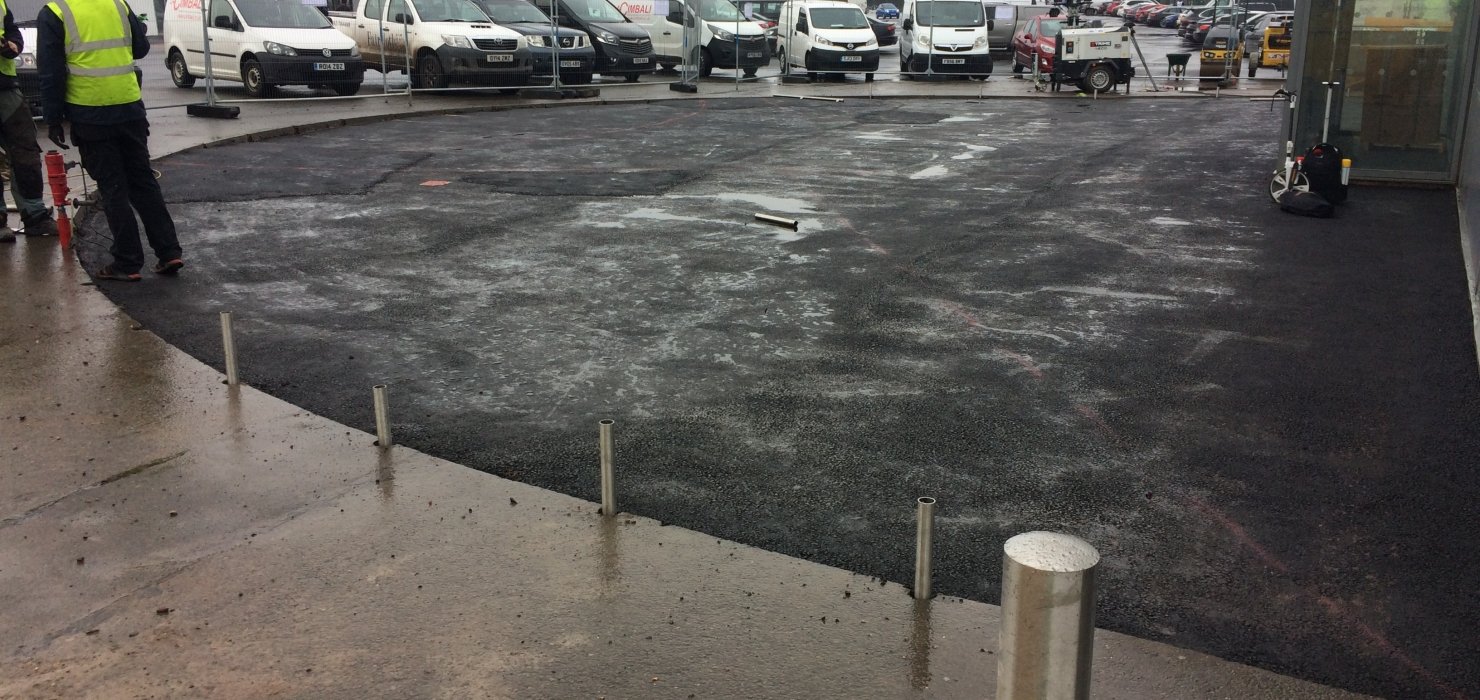 Key
Features
Application: Seating area, pathway
Area: 55m², 20m²
Base: asphalt
Colour: Bronze, Sterling
Depth: 18mm
Edges: flexible aluminium
Installed: March 2018
In 2020 the EcoBatcher will save a project of this size 60 single-use plastic buckets!