Award-Winning Resin Bound Installation in Slough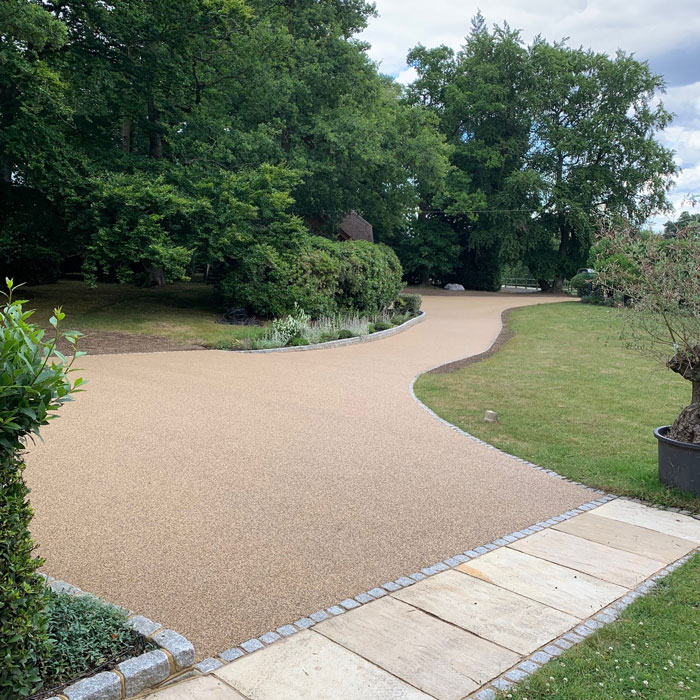 Project Overview
Location: Slough, United Kingdom
Installer: David Crowder Landscapes Ltd.
Materials: SureSet UVR ProResin and 6mm Barley Butter aggregate supplied by Grantex Surfacing
Project Size: 495m²
Date of Completion: 2022
Awards: 3rd place in the SureSet Installation of the Year 2022 Award
Introduction
David Crowder Landscapes Ltd, a reputable landscaping company, was commissioned to transform a property in Slough with a stunning resin-bound installation. The project involved using SureSet's high-quality UVR ProResin and 6mm Barley Butter aggregate supplied by Grantex Surfacing, along with installing the tarmac base and block edging. The client had a clear vision for the project, aiming to enhance the aesthetics of their property and create a durable and visually appealing surface.
Challenges
Surface Preparation: The existing surface required significant preparation work, including removing old paving and levelling the ground to create a suitable base for the resin-bound system.
Weather Conditions: Weather conditions in the UK can be unpredictable, and Slough is no exception. Ensuring the installation process could proceed smoothly despite potential rain or temperature variations was a significant challenge.
Client Expectations: Meeting the client's high expectations for the project's aesthetics and durability was crucial. The client wanted a surface that looked impressive and could withstand the test of time.
Solution
David Crowder Landscapes Ltd began the project by meticulously preparing the site. This involved removing the old surface materials and creating a stable tarmac base to support the resin-bound system. The block edging was carefully installed to define the boundaries of the resin-bound area.
SureSet's UVR ProResin was chosen for the resin-bound surface itself due to its exceptional UV stability and durability. The 6mm Barley Butter aggregate from Grantex Surfacing created a warm and inviting aesthetic that complemented the property's surroundings. Combining the two materials ensured a long-lasting and visually appealing resin-bound surface.
Despite the unpredictable weather conditions, the project was efficiently managed to minimise delays. The installation team closely monitored the weather forecasts and made necessary adjustments to the schedule to ensure the resin-bound installation could proceed smoothly.
Results
The completed 495m² resin-bound installation exceeded the client's expectations. The warm and inviting appearance of the 6mm Barley Butter aggregate, combined with the high-quality SureSet UVR ProResin, created a visually stunning surface that enhanced the property's overall aesthetics.
The tarmac base and block edging provided a strong and well-defined foundation for the resin-bound surface, ensuring its longevity and durability. The client was thrilled with the outcome, and the project's success was further recognised when it received 3rd place in the SureSet Installation of the Year 2022 Award.
Conclusion
David Crowder Landscapes Ltd's exemplary work on the 495m² resin-bound installation in Slough is a testament to their dedication to quality craftsmanship and attention to detail. By using SureSet's UVR ProResin and the 6mm Barley Butter aggregate, they were able to create a stunning and durable surface that not only met but exceeded the client's expectations.
This project is a remarkable example of how skilled installers, high-quality materials, and careful planning can result in award-winning outdoor spaces that look incredible and stand the test of time.
Enquire