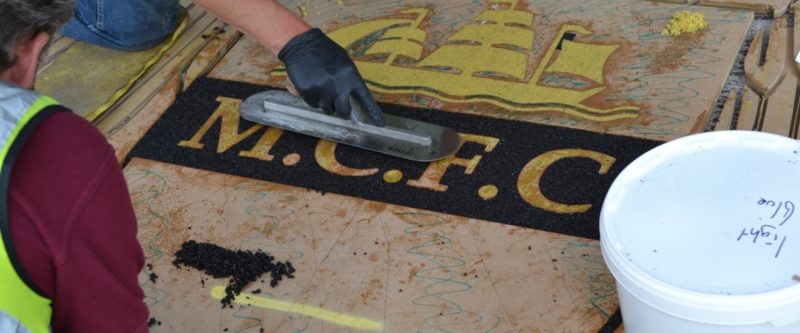 Manchester City Football Club
SureSet Resin Bound Permeable Paving was contracted by Masonbarn Ltd to completely revamp the outside surfaces at the famous Etihad Stadium, home to .
The surfaces outside the Colin Bell stand see some of the world's best players and VIPs stride over them were in desperate need of a new surface worthy of having such feet on them day in and day out.
The current surfaces were breaking up and lifting in certain areas, and were painted in road marking paint which had faded and was patchy in parts. Manchester City Football Club contacted us directly for a permeable resin bound solution to their problems.
We were contracted to install 530m² of our Sterling blend to form the main vehicular route, and a striking contrast of 'Light Blue' coloured recycled glass for the pedestrian routes.
The most exciting part of this project was the 2m x 2.5m² Manchester City Football Club crest which we incorporated into the surface directly outside the player's entrance. The colour was bespoke for a perfect representation of this world famous crest, made from our coloured resin bound recycled glass.
Our highly skilled and creative Installation Team created the logo with MDF stencils, steady hands and lots of patience!
From the day the installation began it marked a historic day in the Stadium's life. On match days, coaches pull up on the Sterling areas and players will walk over the iconic crest through to the ground.
The finished result looks fantastic and has drawn a huge amount of attention from fans, players and other rival clubs alike. The intricacy of the logo has left people stunned that this has been created in resin bound paving!
"There has been a huge amount of public interest with everyone taking photos of our fantastic entrance, let's hope it looks this good on TV."

Spokesperson for MCFC
Enquire
Key
Features
Area 1: 530m² Natural Aggregate in Sterling
Application: vehicular route
Area 2: 2m x 2.5m² MCFC crest
Application: pedestrian route
Area 3: 261m² MCFC crest
Application: pedestrian area
In 2020 the EcoBatcher will save a project of this size 635 single-use plastic buckets!