Durable domestic driveway
Living in a £1.3m home in a quiet residential cul-de-sac in South Buckinghamshire, our customer wanted a new driveway that, while blending in with neighbouring asphalt drives, was permeable and SuDS compliant.   The driveway also needed to include a tree pit to accommodate an established fir tree.
"I first heard of SureSet whilst visiting a holiday park which recently had some SureSet footpaths laid. They looked great and the parks manager was very happy with the end result."  
Barry Mileham, Director FG Mileham Building
Barry Mileham, Director FG Mileham Building first contacted us at the end of April 2015:
"I looked up SureSet on the internet and was impressed with their website, so I made contact and gave them a plan of the proposed work and they provided a quotation.  
SureSet also sent samples of the colours we required, which was black to stay in line with neighbour's asphalt drives and the access road. We also required a different colour for the tree pit which was no problem to SureSet – they sent us several more colour options to choose from.  
Once an installation date had been agreed SureSet sent out their own surveyor to site. I was very impressed with the accuracy in which he measured the drive especially the depth, with a string line, various metal blocks of varying thicknesses and a metal wedge marked in millimetres to pass under the string line to give an accurate depth. This thorough method was used all over the drive to give an average depth.  
SureSet rang me prior to the installation to say they were worried about the weather forecast for that day and asked if they could bring the date forward by one day. It was great to be that organised rather than be disappointed with inclement weather.  
On the day of installation the SureSet Team arrived on time and after introductions they started work straight away. The whole Team were very polite and professional. They worked very hard all day and once they finished the site was left spotless."  
"Were we pleased with the end result? Well there are times in your life when you expect good things and every now and then you get a surprise when things turn out a whole lot better than expected and this was one of those occasions. We are more than highly delighted with the end product thanks to SureSet and the faultless Operations Team."  
Barry Mileham, Director FG Mileham Building
This beautiful driveway will maintain its colour for at least 18 years – guaranteed!  All of our  is  against colour change and UV.
Enquire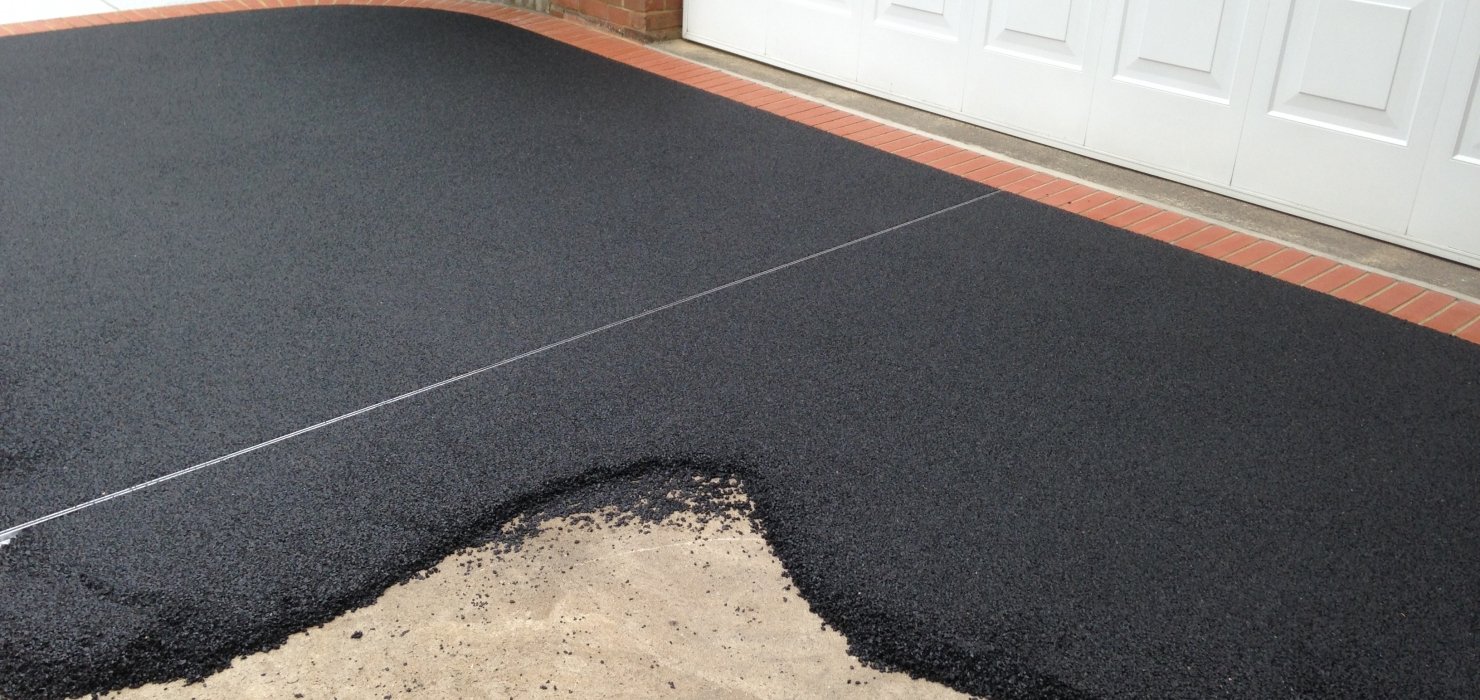 Key
Features
Natural Aggregate: 6mm Midnight, 10mm Sterling
Application: driveway, tree pit
Area: 96m², 2m²
Base: concrete
Depth: 18mm, 40mm
Edges: engineering bricks, edging stones
Installed: August 2015
In 2020 the EcoBatcher will save a project of this size 82 single-use plastic buckets!