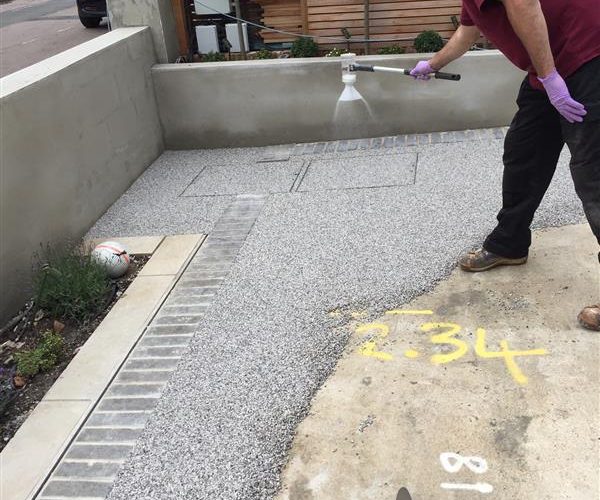 Everything You Need To Know About Outdoor Concrete Resin Flooring
If you're looking at giving your concrete patio, outdoor living space, or entertainment area a SureSet concrete resin floor makeover, there are a few things to consider.
Read on for hints, tips, and sound advice that can help you make the best decision for your home and garden.
Putting Outdoor Resin Flooring Over Concrete
Newcomers to using resin bound paving often wonder if concrete is a suitable base for outdoor resin flooring. The answer to that question isn't as simple as "yes" or "no."
You certainly can lay resin bound paving over an existing concrete base, provided that the base is in good condition. That said, concrete is not necessarily the best option for realising your outdoor flooring ideas. We'll share more on that below.
Pros And Cons Of A Concrete Base
There are several pros and cons of installing outdoor resin flooring over a concrete base, whether it's for low cost backyard flooring options or driveway flooring.
Some of the pros include:
Concrete and resin bound surfacing bond well together
Concrete is durable and long-lasting
You don't need to use an additional base
Concrete is relatively inexpensive
Concrete is easy to install
Some of the cons include:
Concrete is
Concrete absorbs moisture but not all types are permeable
Permeable concrete is more expensive than non-permeable types
A concrete base increases the curing time of outdoor and garden resin flooring
You need planning permission to install a new concrete base as it's impermeable
Looking at the cons, the first two points arguably are the most serious considerations. Concrete production is responsible for between 4 and 8% of the world's carbon dioxide. It's also responsible for almost one tenth of the world's industrial water usage.
Secondly, most types of concrete absorb moisture but do not allow it to drain away, which can affect the quality and lifespan of your concrete resin flooring. It can also lead to water pooling on the resin surface.
The only way to get around this if you have non-permeable concrete is to ensure you install enough falls and drainage before laying the resin flooring. The drainage should be at the height of the concrete rather than the resin. The fall toward the drainage point should be 1 in 100.
Alternative Bases For Outdoor Flooring Ideas
As you can see, concrete certainly works as a base for SureSet permeable resin outdoor flooring ideas, even if it's not the best choice. If you would prefer to consider a few alternatives to concrete resin flooring, we're happy to offer the following recommendations:
SureSet resin bound paving adheres well to asphalt/tarmac. However, you will need to ensure you choose permeable asphalt/tarmac, otherwise you will need to get planning permission from your local council. Most types of asphalt/tarmac are not permeable.
The best option for SureSet is our very own . The base is a specially developed environmentally friendly alternative to concrete, asphalt, and tarmac. It's also the best choice if your outdoor living area, patio, or entertainment area is paved with a material that is not suitable for SureSet products.
SureCell is free-draining, and you can use it for new building projects and for adding an extension onto an existing paved area. You can fill it in with loose gravel before laying resin bound paving over it. You can also fill it in with soil and plants if sections of it extend beyond the area you're paving.
Unsuitable Bases For SureSet
Whether you want to lay outdoor resin flooring over an existing base or a new one, there are a few base materials that you should avoid. A few of those bases are:
Block paving
Flags/slabs
Setts/Belgian blocks
Wood/timber
In addition to those bases, SureSet is not suitable for outdoor flooring over dirt. The primary reason those bases are unsuitable is the number of cracks below the surface. Laying SureSet over those bases will cause the resin to crack. In addition to lines and cracks, timber or wood would absorb water that drains through the paving, rot, and eventually crumble.
You can lay SureSet over MOT type 1 gravel or sand in light traffic areas such as patios. However, type 1 is not permeable, as it is graded to dust. You also can lay our products on type 3, which is permeable. Type 3 is most commonly used for laying resin bound paving around tree pits.
Laying Concrete Resin Flooring
If you would like to proceed with installing concrete resin flooring, follow these basic steps to lay it over a new or existing concrete base.
The first thing you should do is to ensure that the concrete base is in good condition. There should be no cracks, holes, debris, fungal growth, moss, algae, grease, or oil on the surface. You'll need to sweep the area and give it a good wash.
Next, you should fill in any cracks or holes, and you should make sure that the surface is even. If the concrete surface is beyond repair, you will need to remove it and lay a new base, whether it be concrete or one of the alternatives suggested below.
After any repairs have had a chance to dry and cure, you'll need to make sure there are sufficient falls and drainage, as our resin bound paving is permeable. Concrete needs a minimum of 14 days to cure. Next, prime the surface with . You can apply it using a fleece or lambswool roller and a brush. Our primer is a single part polyurethane-based polymer that has been specially formulated to cure quickly so that you can get on with installing your outdoor resin flooring. The primer binds dust on the surface of the concrete and it improves the way SureSet resin bound flooring adheres to the base.
When the primer has cured fully, you can begin installing SureSet to create your concrete resin flooring. To do this, you'll need to mix the resins, mix them with your preferred aggregate, and then lay it according to the instructions you received with the products. Ensure any required edging is in place before you lay the resin bound paving to ensure a neat finish. SureSet ideally needs 24 hours to cure, but you should be able to walk on it after six to 12 hours, depending on the catalyst amount used. If you're unsure of the curing time, check with the approved installer before they leave. To be 100% safe, don't walk or place anything on the resin for 12 to 24 hours.
Examples Of SureSet
Use these examples of SureSet projects to inspire your outdoor flooring ideas:
The , Hayes Town, London – SureSet was used to create pathways and other areas in one of London's largest green roofs and pocket roof parks.
Horatio's Garden for the Spinal Cord Injury Centre, Royal National Orthopaedic Hospital, Stanmore, London – SureSet was used to create in a beautiful garden that offers tranquillity to patients.
Beach themed garden, Ealing, London – SureSet was laid over a to create a garden with a beach theme.
If you would like more information or advice about using SureSet for concrete resin flooring, please . Our consultants are happy to assist with your queries.
Enquire